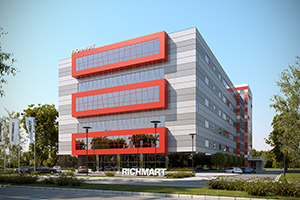 Cantarelli innovative Made to measure and Made to order services.
Made to measure is a special and personalized service, according to
the person's tailored measurements, model, decorations and material
choices. Particulars and details are what makes the ensemble more
special. It is for this reason that every single garment is cared for
in all its details.
Made to order is a garment collection with different designs and sizes
in small quantity. The collection is developed and produced throughout
the season to answer all current market requests.
Cantarelli - historical Italian brand with 50 years of history
Cantarelli's head office is in Tuscany region in Italy, between Rome and Florence, near by the town Cortona and has an area of 30 000sq.m. and production unit 10 000 sq.m.
In the past, over 900 employees have worked in the production unit.
For many years Cantarelli has been in a partnership with world-famous luxury brands and has developed their collections.
Cantarelli also develops it's own garment collections which are sold in over 500 boutique shops in over 30 countries.
Today Cantarelli preserves it's traditions and Know-How:
- Innovative Made to Measure business model
-"Cantarelli Fabric Selection" manufactured by elite Italian suppliers.
- Supports the preservation and creation of working places in family boutique shops worldwide.
Cantarelli - innovative production line for Made to Measure suits at the price of Ready to Wear
- Successful implementation of the principles of the automotive production line in the fashion industry
- European financing of the production line aiming the preservation and creation of new working places in Europe
- Annual capacity of the production line – 250 000 garments
- Italian traditions – Cantarelli uses it's Know – How in developing the new production line
- Design of the collections – the design of the garment collections and the fabric selection is made by Tuscan designers with over 30 years of experience in creation of collections for luxury brands.
-Technology of manufacturing – 4 traditional manufacturing technologies are offered – Half Canvas, Full Canvas, Deconstructed, Fused
- German precision – using the most modern German machinary - Durkopp, Veit, Pfaff, Strobel, Brisay, with which is achieved high quality, high productivity and low cost
- CAD – CAM system – Lectra, France – software for creating single patterns and 25 robots for single cutting – high productivity and low cost
- Production transport system Eton, Sweden – with Eton system are achieved high quality, high productivity, low cost and short production times.
- Production lead time – 7 – 10 days.
With the new production system are achieved extremely short lead times.
- 100% European manufacturing – European certificate for all materials used in the manufacturing of the suit.
- Quality of the product – the combination of the Italian Know – How, German precision of the machines, Eton systems and Lectra CAD – CAM systems achieves high quality of the products.
- Price of the products – Cantarelli's innovative production line executes high productivity by automation and a significant cost reduction.
- Fabric selection – Cantarelli invests in creating "Cantarelli Fabric Selection" Made in Italy which allows a significant reduction of the cost of the end product.
The Result – Luxury at an affordable price – Made to Measure suits at the price of Ready to Wear